But here I am, typing away on 11AM on a Monday! So, let's take it back to where it all started. I've always LOVED baking. I remember almost every weekend as a little kiddo we would make funfetti box cake, brownies, cookies- you name it. It was a love of mine for as long as I can remember. My cousin, Lacie, has a memory of asking me what I wanted to be when I grew up… my answer was "I want to be a baker at the Publix bakery" heheh, but hey, I at least knew I had a passion for baking. (also, peep the cutest photo ever of my and my little sister from way back when!)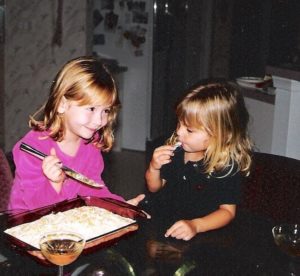 Fast forward to when I about to turn 16. It was my GOAL to have a stand kitchen aid mixer. I asked both of my grandmothers for a Kitchen aid that year, and apparently they didn't communicate on gift giving, so for my 16th birthday… I got 2! If you can only IMAGINE my excitement!!!
I baked everyday. Anything and everything. I would watch the food network after school, take notes, write down recipes. I would get inspiration online for flavors and I would even create cake menus and business models. I was committed. From that point on, my answer to the question "what do you want to be when you grow up", was I WANT TO OWN A BAKERY. My senior year of high school i started a Facebook business JazzyCakes, all my friends and family would order cakes for their birthdays. I had little business cards printed up and everything.
Off to college I went, FGCU. GO EAGLES! I was Hospitality major & my junior year they required an internship in a food establishment. Searching though the lists of companies offering a position I saw SassyCakes. ARE YOU KIDDING?! I emailed immediately, and not so patiently waited for a response. I was soon anxious and excited and it seemed like a dream come true to even work in a real bakery setting. I'm telling you guys i thought it couldn't get any better than that! (boy was a silly) As it is probably obvious, yes I get hired for the intern position- I learned so much, I was in my element, I literally though i had the best job ever.
About 2 months in, the owner expressed to me she was going to be selling the bakery. I think I cried the whole way home. My boyfriend at the time, now my husband, Geoff, (who is clearly the brains) said, isn't your dream to OWN a bakery? hello? Why couldn't see fate knocking on my door!
So, with the help and support of amazing loving hubby & the rest of our families, we bought SassyCakes on January 1st, 2014. 16 short days after my 21st birthday I might add… and the rest is history! Bringing us today, I get to live my dream. PINCH ME!! My goal is to cake the world a better place, one Sassy Cake at a time 🙂